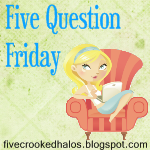 Mama M over at
My Little Life
is putting on 5 Question Friday again to kick off the weekend right!!! Head on over to see answers from tons more people.

1. What's your guilty pleasure? HMM Cokes, chocolate, wait no the internet, oh wait again, maybe my "boring" TV shows as Daddy would call them. Crud I can't decide!! Its a toss up!

2. What is your favorite TV series? I dont really have an absolute favorite but one I try to never miss an episode of would be Army Wives. Yes its completely and utterly incorrect in most aspects but its funny and it keeps me entertained while folding laundry on Sunday night after the kids are in bed!

3. Can you speak any foreign languages? Does speaking Spanish while watching Dora count? Nope? Darn it guess not then!!

4. How many pairs of shoes do you own? Maybe 20. Now the real question would be how many pairs do I actually wear on a regular basis!!! That answer would be 4. Sneakers, Boots, and 2 pair of Clarks for the summer!


5. What's your favorite kind of M&M's...peanut, almond, straight up regular, etc.? Straight up (anyone else have Paula Abdul running through your head now??)!!! Add some popcorn to that and I am in movie theater heaven. HMMM I may just have to run to the store to pick some up tonight. Darn you Mama M!!!