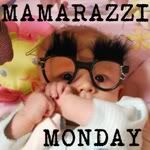 Here are a few pictures from V's soccer game on Saturday. It was so much colder than the rest of the week had been but the girls kept on playing like they didn't even notice. Me on the other hand? I was definitely ready to go home!!!



Off she goes. I swear if I had half of their energy my house would be spotless 100% of the time.



She scores!! Everytime she or one of her teammates scores she does this little arm thrust thingie and a dance. Its hilarious but that's definitely team spirit!

This post has been linked to
Household6Diva's Mamarazzi Monday