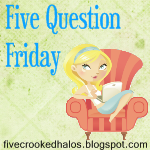 Another round of Five Question Friday by
MamaM
!!!

1. Have you ever had a celeb sighting?
HMM Nope can't say I have :( Though being from Alabama I would really expect to. Now that I live in TN I thought maybe one day I would see someone but that day has yet to come.

2. What temperature do you keep your house?
Around 70-72 during the day and 68 at night. I love snuggling up under the covers and getting warm!

3. Do you notice dust at other peoples homes?
I do but only if its really, really bad!

4. What's the worst job you ever had?
I can't think of a job that was the worst so I will just share the best job! I was working in a book store in the mall and that is where I met Daddy!! What better job could you ask for??

5. What is your most sentimental possession?
I think it would be a tie between my earrings Daddy got me during his first deployment (I never take them off) and my Mamaw's amethyst ring that I adored when I was young and received many years after she passed away.