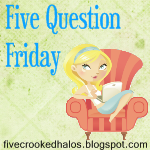 1. What is your worst memory of your siblings?
I would have to say when my sister and cousins would leave me in the woods out in the country knowing I hated it out there!! I still don't like to go out in the woods at night and never will!!
2. What was YOUR naughtiest childhood memory? (Must be something YOU did, no pawning it off on someone else!)
UGH..I have no clue!! Sneaking out could possibly be on the list though I don't remember it. Lying about where I was..yep I am sure that happened. Not answering the phone b/c I knew I wasn't where I was supposed to be or definitely wouldn't make it home in time. Yep those happened! Take your pick.
3. Where do you like to go to relax?
I have found the gym!! I just started this week and absolutely love it. I can get on the elliptical or treadmill, turn on my music and just drown the world out. Who cares that I am covered in sweat and my face is the color of a tomato I am in my groove and no one can bother me!!
4. What was the last thing you won?
A pair of Delicate Soles though I wish my feet weren't so darn small and they fit :( They are absolutely adorable and I am seriously debating contacting them and telling them to make a smaller size!
5. If you could be on a game show, which would you choose?
OHHH I am going to go back and say Family Feud! Nothing like a little family rivalry right??
Now head on over to My Little Life and see what others answered!