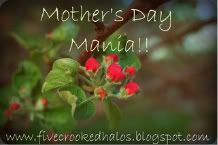 Mama M at My Little Life is wrapping up Mother's Day Mania with Letters to our Oldest. If you know me then you know that I am not a good letter writer so this was a bit difficult for me. So many thoughts running through my head yet nothing looks or sounds right on the screen but I decided to just write what came to me and didnt change a thing!
My dearest "M",
For the past 9 years you have blessed my life in more ways than you will ever know. Though we may have had our ups and downs please know that I will always love you more and more every single day. I have loved every minute of watching you grow as you dance across the stage. You may get exhausted with all the rehearsals and trust me I know the feeling but you have stuck with this and blossomed more than I ever thought possible. You are an amazing, graceful, smart and talented young lady. I wish for nothing more than happiness and love in your life and will do whatever I can to make it possible. In the years to come you will have to be faced with decisions, heartbreak, disappointment, happiness, a sense of acheivement, and many more obstacles and I know without a doubt that you will overcome them and accept them with no problem. Just know that if you ever need someone to talk to, cry with or even jump up and down with then I am there for you. You may be the oldest of the bunch but you will always be my baby no matter how old you may be. I love you "M" and always will.
Love forever,
Mommy
Head on over to My Little Life to read some more heartfelt letters from Mothers to their oldest babies.