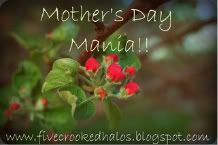 Day 4 of Mother's Day Mania with Mama M at My Little Life is off and going!! Head on over to read other's stories about Motherhood!
What do I love about being a Mom?
* The unconditional love that they give you from day one (though they may say they don't like you sometimes)
* The random kiss on the cheek and when you ask what it was for they answer "Just because"
* Checking on them at night and seeing their peaceful faces knowing that you have done everything during the day for them and because of them
* Seeing them grow each and every day and knowing that you had a part in this!
* The look of excitement or accomplishment when they learn something new whether they are 3 months or 13 years old.
* Hearing I love you for the first time (no matter how mumbled it may be) and every time after!
* Seeing them run to you with excitement after you have only been gone for a little while knowing they missed you every single minute of it!
* Knowing that no matter how mad or frustrated you may get with them you know that you will always be the number 1 person they go to when they need help, advice, cuddling or whatever their heart desires and also knowing that in .02 seconds you will stop being mad and love them more than ever.