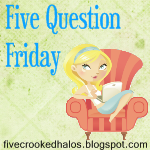 Ready for some fun? Then head on over to MamaM's blog Five Crooked Halos and join in on 5 Question Friday! There are tons of other blogs participating this week so go ahead and read away!
1. What was the first car you owned? Pontiac Grand Am that was this odd pink champagne color inside and out!! We wont go into how many people I could fit in that car so as to not incriminate myself :) It was my first car so I loved it no matter what though my absolute favorite car was my red Honda DelSol. I still miss and love that car!
2. What song are you embarrassed to know the lyrics to? Umm...Baby Got Back, Ice Ice Baby, there are just too many to count :) I also know all the lyrics to most preschool shows like Dora, Diego, Franklin, Backyardigans, etc! Yep pretty sad huh???
3. Have you ever had stitches? Only the ones from having my wisdom teeth cut out. I have been lucky so far to avoid them and hope my luck keeps on going.
4. What was your first job? I worked for Piercing Pagoda in the mall. It was pretty darn fun. I love people watching so being in a Kiosk it was the perfect opportunity. The only thing that stunk was having to run into another store to use their bathroom.
5. Who is your favorite Sesame Street character? Cookie Monster! I love me some cookies and can definitely relate to him in that aspect. Being big and blue? Not so much!