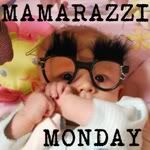 We have had several rainy days here so we have resorted to playing inside. Cabin fever is setting in and there are only 2 days in the next week that have been forcasted for no rain. I guess those April Showers are coming in full force finally!
This is what happens when I am in the kitchen making myself lunch finally. "A" has made a "swimming pool" for her dolls, horses, and whatever else will fit into the bucket! No questions asked about her imagination huh?
Any ideas on what her doll is thinking right now??